Emigration from County Tipperary, Ireland
to the Ottawa, Canada area, 1818-1855

Painting by Ruth McMillan in 1976
Shows the Head of the Rideau Canal Locks in Ottawa, Canada in 1893
__________________________________________________________________

June 22, 2011:

My name is Mary Donnelly and I am from Borrisokane in County Tipperary. 
Have any of you heard of the Black Donnelly's who left Borrisokane? James Donnelly and Johanna McGee, the parents, 
were eventually slaughtered in the biggest unsolved crime in Canadian history. They had Howe as sponsors at their 
wedding and a Howe was also married to a Donnelly cousin of theirs. The decendants of many of the people you write 
about  are known to me. Eamonn Slevin from Borrisokane for example is a local historian and I think you should be 
talking to him. If you have come across anything that might be helpful please pass it along. Meanwhile I have 
grave records that are rare. Just saw a grave of a Darby Slevin / Slavin lately.
 
Kind regards 
 
... Mary  
(PS. I am not related to the Donnelly's but the Howe family from Borriskane and the district are and we have lots 
of documentation around it. We have a photo or two of Howe who left Borrisokane for New Zealand. Can pass anything 
along!)

The following map shows the main towns / villages within a fifty kilometre radius of Borrisokane. These are the 
major centres from which the pioneer settlers from North Tipperary, Ireland, came to Canada in the 1820-1855 time 
period.

These are the distances from Borrisokane:

Terryglass 10 Km.
Nenagh 18 km.
Roscrea 29 km.
Borrisoleigh 43 km.
Thurles 50 km.

The beginning of the major immigration from Tipperary, Ireland, to Carleton County, 
Ontario was the 1818 Talbot Settlers. Also, in 1818, a regiment of Foot (the 100th /99th) 
was disbanded after the war of 1812 and settled in Goulbourn Township, now part of the City of Ottawa, Canada).



Map Source: This map is a portion of a widely-distributed black and white map showing Ireland 
in 1848. It appears in many books, for example, The Great Hunger, Ireland, 1845-1849, 
by Cecil Woodham-Smith, page 13. County Tipperary has been extracted from the main map and appears below.





Some Reference Works used in the creation of this web page:

Irish Migrants in the Canadas: A New Approach, by Dr. Bruce Elliott (Carleton University), 
McGill/Queen's Press, 1988, ISBN 0-7735-0607-I -- This book is encyclopedic and should be in all 
of our family libraries. (HIST 3500 course at Carleton University, given by Dr. Bruce Elliott), 
Digital Version

Black Donnelly Family Web Site

The Donnelly Album, by Ray Fazakas, Firefly Books, 1995, ISBN 1-895565-61-8, 311 pages

September 3, 2016:
The McCabe List - Early Irish (1829) in the Ottawa Valley, Ontario Genealogical 
Society, 1991. This list of 683 emigrants from Ireland was compiled in February of 1829. It consists of 
mainly Irishmen who were in the Ottawa area at that time. We have digitized this list for easy research 
purposes. The next month, an additional list was compiled consisting of another 215, almost all Irish 
emigrants with families who were working at the Rideau Canal and were looking for land on which to 
permanently settle when the construction of the canal was completed. This is also being digitized.

May 16, 2015:

Here is a good book which describes mainly Protestant families in Biddulph / Lucan, some of whom were 
related to families in Carleton County (Ottawa area):

Sure An' This is Biddulph, by Jennie Raycraft Lewis, written for the Biddulph Township Council, 1964,
hardcover, 163 pages.







Some Emigrants from County Tipperary, Ireland, to Ontario and Quebec, Canada, 1818-1855

Colonel George Thew BURKE
in charge of the settlement at Richmond, 1818
CLARKE, William
to Barrhaven in 1842
CORNWALL, Richard
DAWSON, William
Tipperary in 1832
wife= Catherine TIERNEY
DONNELLY, James
to Biddulph Township in 1842
"Black Donnellys"
HOBBS, William
to Ashton Village area, some to Aylwin, Quebec
ML# 299
HODGINS Family
to Carleton County and Biddulph
HOGAN, Luke
Patrick KANE
Tipperary to Troy, New York, USA
Edmond MORPHY and Barbara MILLER
to Carleton Place
MULVIHILL, John
from Borrisoleigh before 1830
ML# 248
from Templemore before 1830
ML# 41
PHELAN, John 37
Stakesby
Killmore, Tipperary (WHELAN)
REILLY, Brian 33 RC
Stakesby
Dundrum, Tipperary
REILLY, Michael 28
Stakesby
Dundrum, Tipperary
RICHARDS, Richard
ML# 291
ROCHE, James 39 RC
Hebe
Clogheen, Tipperary
SLATTERY, Patrick
Hebe
Clogheen, Tipperary
Conc. 8 Ramsay Twp.
wife=Ellen McCREA / McRAE
WALSH, Richard
Hebe
Clogheen, Tipperary
SLAVIN / SLEVIN (7 brothers)
to Bytown
see SLEVINs in Borrisokane related to Donnellys in Biddulph
WHITE, James
Hebe
Clogheen, Tipperary
WHITE, Michael RC
Hebe
Clogheen, Tipperary
Goulbourn ML# 337
November 29, 2015: Note the above are only a few familes who came to Ottawa. To find more more, go to the bottom of this web page, to the dedicated Google search engine, and enter the term Tipperary, then click on "Find". Many Protestant and Catholic names from each county in Ireland.
---
June 26, 2011: Roman Catholics in the Barony of Ikerrin (includes the town of Roscrea),in 1750.
---
June 29, 2011: Hello, Mary. My name is Kevin Collins and I am planning another trip to Ireland to investigate my maternal roots. My mother's maiden name was O'Meara and on a previous trip to Ireland I did a little scouting around Nenagh and Toomevara in Tipperary in search of O'Meara links (my main mission, however, was investigating Collins connections (Patrick and Timothy in West Cork). There are so many O'Mearas around this area that it was a bit overwhelming especially without having much time there. In going through some of my late mother's papers, I noticed she made a note: "My great-grandparents were Martin O'Meara and Mary Troy, natives of Bracka, Ireland, County Tipperary." Elsewhere in her papers, there is a reference to Borrisokane. I believe 'Bracka' is spelled 'Brocka', but I am confused as to what the status of Brocka is. I have heard of the restaurant 'Brocka-on-the-Water' in Ballinderry, and have seen a few real estate listings for Brocka, Ballindery, but not sure if Brocka is a distinct entity. Any clarification you might provide would be most appreciated. ... Kevin ________________________________ Thanks to Mary for this reply: Have a look at this site for general information on Troy's of Ireland. Troy Family in Ireland (There was also a Troy Family who came to Ottawa from County Kilkenny, Ireland ... Al) Humphrey site is the one for the O' Meara's and I am confident that they are your ancestors. ... Mary
---
October 30, 2011: Hi Mary, Kevin and Al, My name is Tim O'Hara and I live in Rochester, Michigan just north of Detroit. I just noticed your web site and read with interest some of your comments on Borrisokane and the O'Meara's. I have learned a lot today! My great great great grandfather Daniel O'Meara emigrated through Quebec to Plympton Township, Lambton County, Ontario in 1847 with his wife and 8 children. They moved to Emmett, Michigan just on the other side of the Saint Clair River in 1852. Emmett was a completely Irish farming community at that time. His son and my great great grandfather James had a large and successfuI farm in Emmett which still exists although not within the family. James daughter Mary O'Meara married my great grandfather Michael O'Hara who lived down the road. My grandfather was born in that house in 1906. I had assumed from previous reading that the O'Meara's were mainly from Nenagh and Toomevara. I went to Ireland in August for the first time in 20 years fairly confident that I at least knew the town where the O'Meara's were from. I don't really have a clue as to specific towns for O'Haras (Sligo), Callaghans (Castleconor), O'Briens (Clare) etc. We spent a few hours driving around the Toomevara area and I told the kids I think this is where the family is from. Well I was just reading a book I ordered on Amazon, "The Famine Clearance in Toomevara, County Tipperary" (see details below) about a mass eviction in 1849 in Toomevara. Several O'Mearas were prominently mentioned in the book and not favorably. Wondering if I was related to these guys, I started looking for an O'Meara family history that a distant cousin Mary Bailey had put together back in 2001. I knew I had lost the electronic version on my last hard drive failure several years ago, but I just found a paper copy that my dad had made years ago. It prominently says that James O'Meara was born in Borrisokane in Kilbarron Parish in 1840 and emigrated with his family in 1847. Probably should have looked harder for that before I went to Ireland. Gives me a good reason to go back. (See also our web page on the Irish Famine) I don't really know if living for 5 years in Canada before moving to the U.S. (the move actually was probably less than 30 miles) meets your criteria Mary, but I thought I would let you know. Kind Regards, Tim O'Hara

November 17, 2011: Here is the book referenced above by Tim. It's just come in and is now included in the bytown.net library: The Famine Clearance in Toomevara, County Tipperary, by Helen O'Brien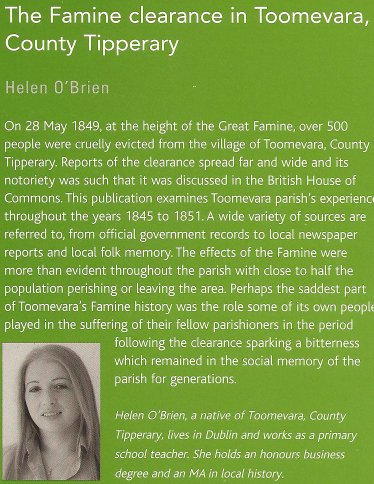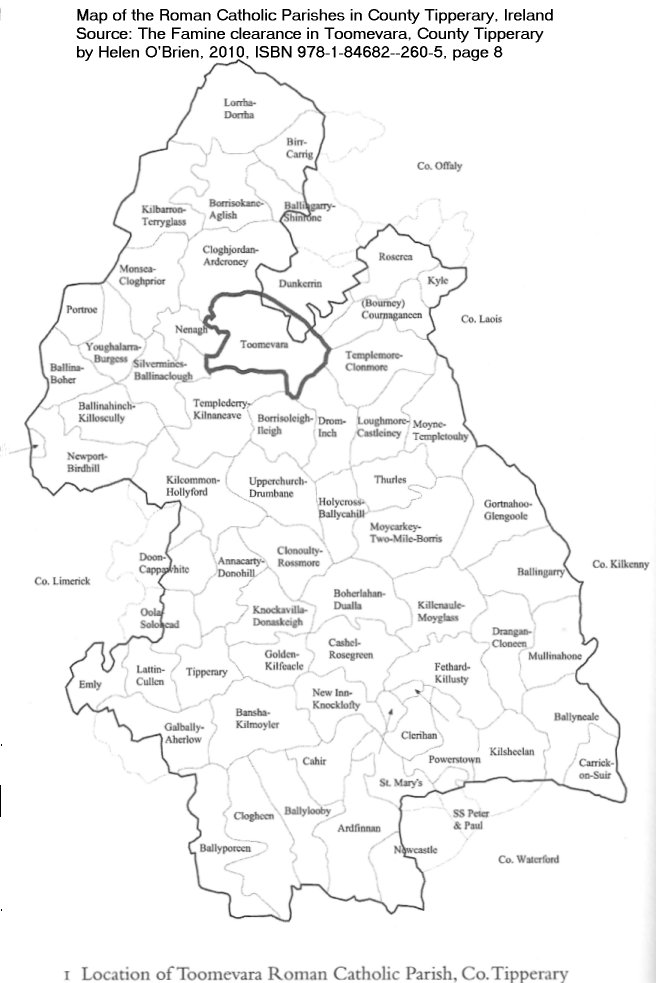 ---
_____________________________________________________

Most of the 1823 Peter Robinson Settlers came from County Cork. Here are a few who came from Clogheen, County Tipperary: (Murphy, McGrath, Roche).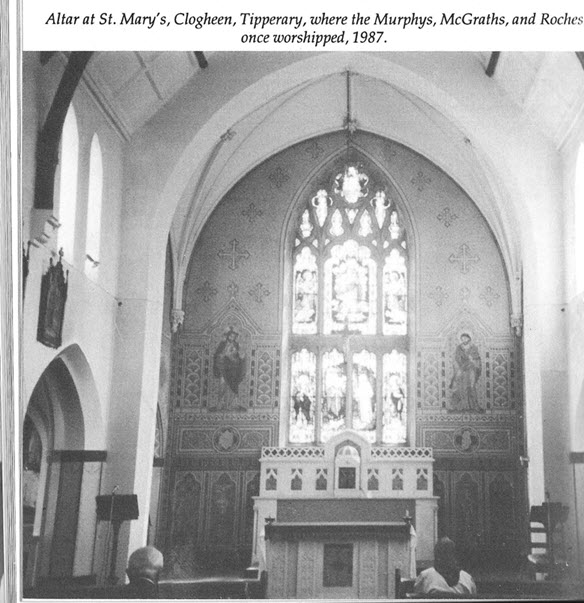 Source: Once Upon a Country Lane, by Garfield Ogilvie, page 214 Bill Ryan from Ireland has sent along some links to interesting Facebook Pages for County Tipperary and one for Ennis in County Clare. Hi Al Just added a few links to Facebook sites the Ennis, County Clare one is particularly good for old photos https://www.facebook.com/groups/207402482615642/?fref=nf https://www.facebook.com/profile.php?id=100008463784964&ref=ts&fref=ts https://www.facebook.com/BorrisokaneKilbarronTerryglassIrelandReachingOut/?ref=ts&fref=ts https://www.facebook.com/groups/984490444900754/?ref=br_rs https://www.facebook.com/groups/207402482615642/?ref=ts&fref=ts Bill is in the process of setting up a web site and a facebook page in Ireland. We will then (Tipperary, Ireland and Ottawa, Canada) be able to connect present Tipperary folks with some of the families who came to Ottawa, Canada, starting in 1818. Bill's e-mail address is included in the list below. ... Al Note: by entering the word Tipperary into the search engine below you will find hundreds more Tipperary families.
---
June 11, 2020: Names and ages of persons who died in the workhouse at Roscrea, County Tipperary, Ireland in 1848. Source: Atlas of the Great Irish Famine, 1845-52, Edited by John Crowley, William J. Smith and Mike Murphy, Cork University Press, page 143, 2012.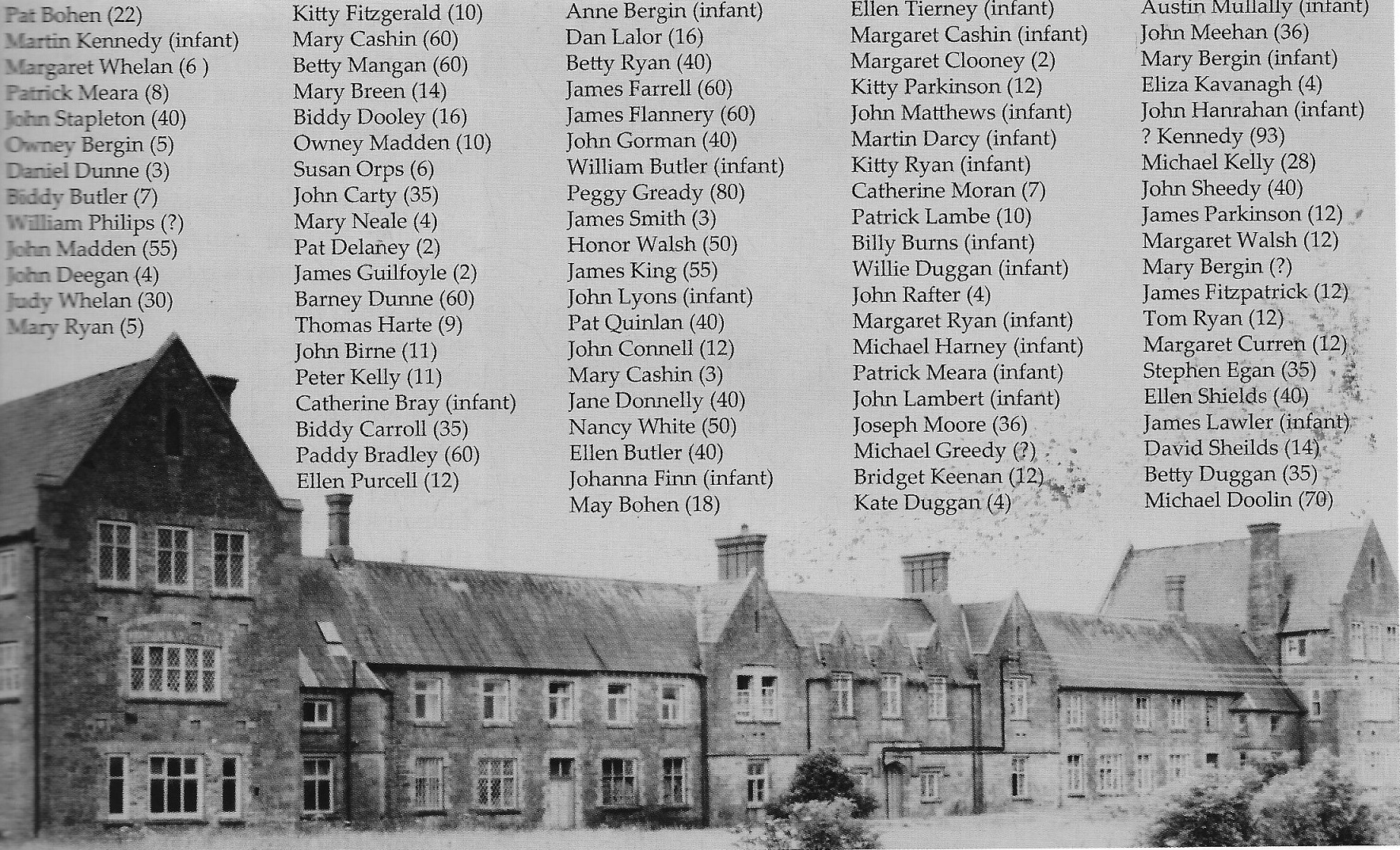 Names Liste: Pat Bohen, Martin Kennedy, Margaret Whelan Patrick Meara, John Stapleton, Owney Bergin, Daniel Dunne, Biddy Butler, William Philips, John Madden, John Deegan, Judy Whelan, Mary Ryan, Kitty Fitzgerald, Mary Cashin, Betty Mangan, Mary Breen, Biddy Dooley, Owney Madden, Susan Orps, John Carty, Mary Neale, Pat Delaney, James Guilfoyle, Barney Dunne, Thomas Harte, John Birne, Peter Kelly, Catherine Bray, Biddy Carrol, Paddy Bradley, Ellen Purell, Anne Bergin, Dan Lalor, Betty Ryan, James Farrell, James Flannery, John Gorman, William Butler, Peggy Gready, Honor Walsh, James King, John Lyons, Pat Quinlan, John Connell, Mary Cashin, Jane Donnelly, Nancy White, Ellen Butler, Johanna Finn, May Bohen, Ellen Tierney, Margaret Cashin, Margaret Clooney, Kitty Parkinson, John Matthews, Martin Darcy, Kitty Ryan, Catherine Moran, Patrick Lambe, Billy Burns, Willie Duggan, John Rafter, Margaret Ryan, Michael Harney, Patrick Meara, John Lambert, Joseph Moore, Michael Greedy, Bridget Keenan, Kate Duggan, Austin Mullally, John Meehan, Mary Bergin, Eliza Kavanagh, John Hanrahan, ? Kennedy, Michael Kelly, John Sheedy, James Parkinson, Margaret Walsh, Mary Bergin, James Fitzpatrick, Tom Ryan, Margaret Curren, Stephen Egan, Ellen Shields, James Lawler, David Sheilds / Shields, Betty Duggan, Michael Doolin.
---
E-mail Allan Lewis