The Ballygiblin Riots in 1824
Almonte and Carleton Place, Ontario, Canada

Painting by Ruth McMillan in 1976
Shows the Head of the Rideau Canal Locks in Ottawa, Canada in 1893
__________________________________________________________________

There are good descriptions of the Ballygiblin Affair (two weeks of Catholic / Protestant
skirmishes) in Carol Bennett's Book The Peter Robinson Settlers and in Howard Morton
Brown's book Lanark Legacy. Both these books are listed in our bibliography.
... Al


---


June 3, 2002:
Al,
This just came in on our Query Board
Jim Magner
Re: MAGNER / other names to Canada in 1823/1825

From: Nancy Thompson
Surname: O'Connor/Connors
Area Searching: County Cork Ireland
Email: sirius@uslink.net
Date: 27 May 2002
Time: 18:52:38
Remote Name: 204.221.87.38
Comments

Very interested in the posting of Al Lewis regarding the 1823/25 Robinson Settlers 
to Canada. I have Timothy O'Connor / Connors aboard the Brunswick of 1825 with his family. 
They were from Mallow and he was a backsmith. An "embarkation certificate" states he was 
born in Cecilstown. Can any light be shed on this? Also researching the "Ballygiblin Riots" 
and looking for any information about this event. In particular names of participants and 
those unfortunate enough to be in the wrong place at the wrong time. 
Any information appreciated. Nancy

---


June 10, 2002:
Here's a picture of the plaque in Carleton Place commemorating the Ballygiblin Riots:


 


---


June 26, 2002:

See the book Once Upon a Country Lane by Garfield Ogilvie. It contains a lot of 
information regarding the Peter Robinson settlers and also talks about the Ballygiblin
folks, many of whom died young in Canada. It appears that Ballygiblin was near (or at) 
Mallow and was part of the property of Henry Becher / Beecher 
who also owned land in County Tipperary.

---



June 29, 2002:


| Townland | AKA | Acres | County | Barony | Civil Parish | PLU | Province |
| --- | --- | --- | --- | --- | --- | --- | --- |
| Ballygiblin | | 192 | Cork, E.R. | Condons & Clangibbon | Brigown | Mitchelstown | Munster |
| Ballygiblin | | 442 | Cork, E.R. | Duhallow | Castlemagner | Kanturk | Munster |
Source for the above table: http://www.seanruad.com
---
January 25, 2006: Here is some interesting correspondence from Thomas Ryan who lives in North Cork, the origin of the Peter Robinson Settlers in 1823: My grandfather, Will Coakley, was a tenant farmer on the estate of The Beechers of Ballygiblin House, North Cork, Ireland from mid 1880s onwards. This family according to Google were related to the Wrixons. In my youth much was related to me of the times and lifes of the Beecher family , who were held in good regard by the locals. Should you wish me to recall , I will gladly do so, Best Wishes, Tom Ryan. ______________________ more from Mr. Ryan: Hello Al, Thanks for your email. Its comes as a suprise to me about the mass emmigration from the area around Ballygiblin in 1823. Am I right in saying there is a town in Ottawa called Ballygiblin. My mother's family i.e her father, his three daughters, and only son had farms which all bordered on Ballygiblin. My mother was born and lived to the age of 36 on her father's farm until she married my Dad in 1926 and it was from my mother that I was told about the Beechers. She and all the other locals referred to the home of the Beechers in Ballygiblin as "The Great House". Needless to say the locals did not socialise with their landlord, they took orders from them. But as I mentioned in my previous email the Beecher family were held in good esteem, because the Beechers were fair and honourable towards their tenants unlike some other landlords of north County Cork. A thing that puzzles me about the head of the Beecher family in my mother's time was that he was always referred to as Colonel Beecher, while reference to him in Google makes no mention that he was a military man. In my early 20s I lived in the 1950s for 3 years in a house situated abour quarter of a mile from the " Great House" of the Beechers. It was then I came to learn of a battle fought on Beecher land in 1647. It is called The Battle of Knocknanuss and much info about it can be got by logging into "The Battle of Knocknanuss" on Google. B.B.C. Radio,London, did a piece on it and did a great job in the telling of it. In the first or second section in Google re the battle is " A Radio 4 listener asks the question , etc,etc". That Radio 4 listener was me. Al, I hope I am not confusing you. The most common surnames in the Ballybiblin and surrounding area are O'Hanlon, Gayer, Donovan, Cott, McCabe, O'Connel, Cremin, O'Donoghue, Fitzgerald, Daly, Deady, Aherne, Lyons, Clifford. The two nearest villages are Ceciltown and Ballyclough, both tiny. The nearest shopping towns are Kanturk (3 miles away) and Mallow (10 miles) I will end this rigmorole here. I do have more to relate re these times should you wish to hear. Best Wishes, Tom Ryan. _________________ Tom: The area settled by the "Ballygiblins" in 1823 is now part of the City of Ottawa. A great number of folks in this area are descended from these early settlers. In the 1950's, I remember people being called "Corkers" here. My uncles used the term all the time. I notice that your grandfather was a Coakley. There was an early Coakley family in the Ottawa area -- in the 1820's -- they came here from neighbouring County Tipperary, I believe. ... Al
---

May 8, 2009: They settled around the Mississippi River and in and around the towns of Perth, Innisville, Carleton Place (Morphys Falls) and Almonte( Shipmans Mills). Many settled in Ramsay and Drummond townships. As I was growing up in the area it was known that Carleton Place was mainly Protestant and Almonte was largely Catholic. I remember my dad telling me that the 12th of July Orange parade was not a time to be out and about when he was young . (Same with the St. Patrick's Day parades on March 17 of each year). The Duke of Richmond helped settle closer to Bytown on the Jock river. ... Joann
---
April 15, 2020: Source for the following text block and picture of the house belonging to Captain Glendenning / Glendinning is National Capital Heritage, page 2-3.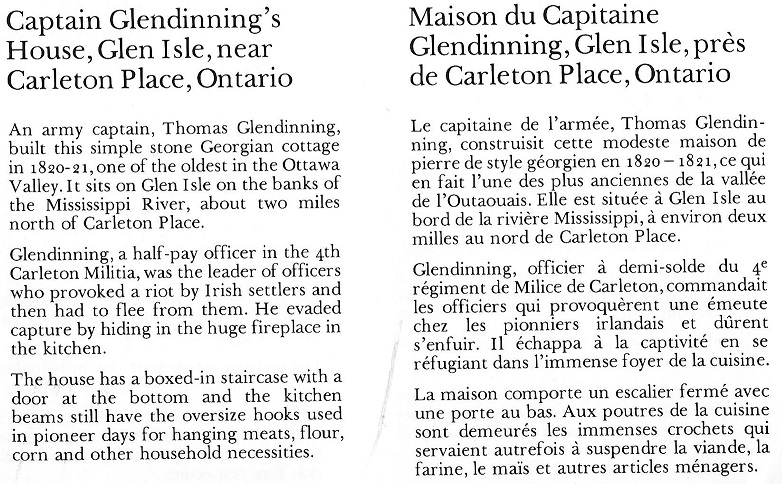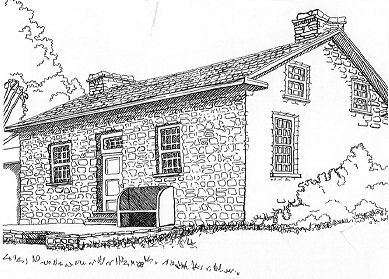 ---
E-mail Allan Lewis